I've recently seen some rather bizarre alleged symptoms of the Covid-19 virus that's crippling the entire globe. From muscle pain, to having diarrhea and more. But one symptom i haven't come across yet, is insanity.
Well, that was until TOUT aka Middle_Finger emailed us with this almost hilarious response to our recent covering of Christopher While.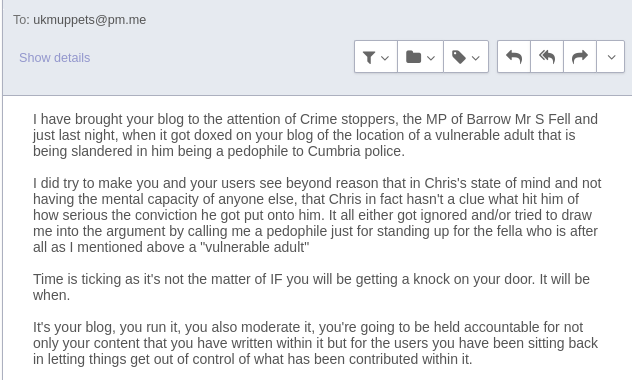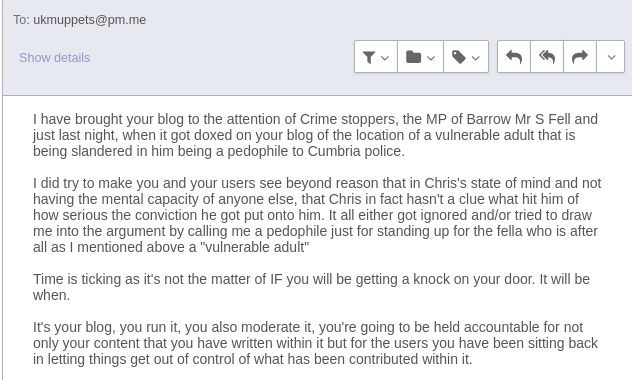 I mean, come on! Crimestoppers? I bet they didn't even give him a reference number lol. MP's? Jesus Christ 🙂
But the best part for me, is, 'when it got doxed on your blog of the location of a VULNERABLE adult that is being 'SLANDERED' in him being a pedophile to Cumbria police'.
How the bloody hell do you slander somebody for being a Paedophile, when they have been convicted of child porn offences and are on the sex offenders register?
And secondly, it was road that posted, not an actual address. A road that Chris himself publicly admitted he would be around on a certain day.
Unlike the now lifetime banned Ruby, who was repeatedly making new accounts to post MeNellies actual home address.
As for getting a knock at the door, i've been getting told that since 2014 when this blog started. It's never happened, and never will. Maybe because i spend time learning the actual law, and knowing what can be said and what can't. But lets see if your complaints to the Police and MP's bring you any success.
Good luck with that.
Anyway, i hope you recover from your illness and get your sane mind back asap.
Regards.
UPDATE:
Well well. What appears to be Belfast's most affected Covid-19 victim, our Ben, aka Tout, has been issuing more Legal threats to us. Claiming that if anything else is written about him, he will be instructing his Legal team to have us closed down under section 127 of the Communications Act 2003.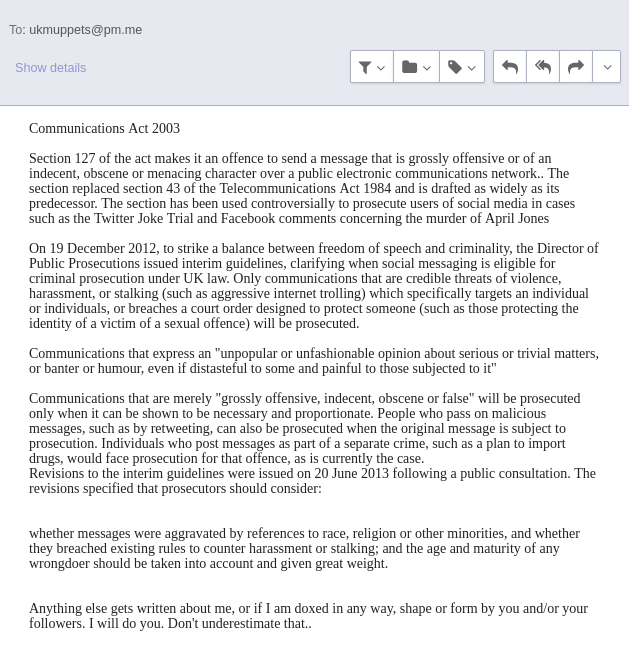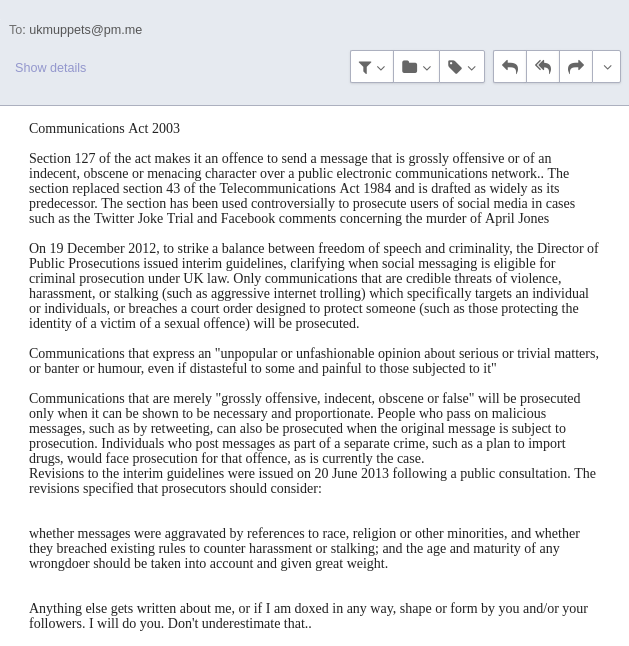 This moron obviously has no concept of reading Legislation. Ben, i implore you to find any Solicitor to even entertain you once they read this blog. I would love to see what your Solicitors Letter Before Action would say, and so would our readers, so it will be published for all to see.
Remember Chris' Preston Crown Courts case, where the Court admitted they were watching this place? How strange, that the only contact i ever had from any Courts or Police, was by the Police asking for a copy of Chris bragging about failing to turn up at his set Court date. There was no request, or order, for any post or video to be taken down. Why do you think that was?
Now i understand you obviously have mental issues, but you are wasting your time trying to silence us from reporting facts. It's not going to happen.
I fully expect another bunch of emails of you raging and having fantasy Legal thoughts, but to be honest, it's getting boring now. Either try and bring a Legal case, or go fishing or something.