For what you get for your $15 each month, the VIP was always going to be controversial. But as more and more people refuse to buy it, and notice i said buy it, not counting the ones Mark has given away, another argument erupted in Ayyone's cast, where apparently, Mark financed the 24 hour recent cast from t-rucker.


Have you ever heard such bullsh*t? If Oma's content breached the rules for the 'people' section, then surely it breached the rules for the whole site and she would of been banned? Since when is there different ToS for individual tabs?
Oh that's right, there isn't. So Daryl, it was you who was bullsh*tting!
But Ayyone wasn't the only one who was picking up on the fact that things are not as they seem with Mark and Scruffy.
The sudden increase in 'servers at full capacity, please buy VIP to view' has not gone unnoticed. Which is strange, because according to Mark, he's added even more servers…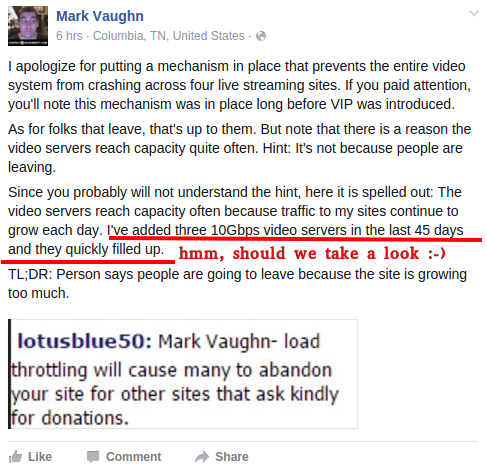 This is where Mark play's on peoples ignorance. Now believe me, i know from running streaming sites years ago, that just a single 10Gbps server can handle a hell of a lot of traffic. Especially as most casters tend to cast at low bitrates. So another 3, on top of those he already has, should not be getting near capacity that quick unless literally thousands of new casters and viewers have appeared since VIP was introduced?
Then when somebody questions this, along with other queries about the running of VaughnLive, Mark responds in a mature, adult, business type manner…
Hmm, is it just me, or does that sound like ' f*ck adding more servers, you don't want that message, PAY ME' ?
At the same time, if more and more people were coming, you would be making more revenue through adverts, no?
Also, another clever trick Mark does, is to try and convince people that he is doing YOU a huge favour, by letting you stream for free ( even though technically its not anymore)
Don't be fooled by this bullsh*t.  Mark and Scruffy don't give a flying f*ck about you, me, anybody that uses Vaughn. They are running it as a business, nothing more.
They need you , not the other way round. If traffic drops dramatically, so does their income.
And before Ryan jumps in and claims it's all lies, lets take a look at what Mark had to say when asked his thought about having an NHS system where he is.
Mark, pissed that he might not be able to buy a new smart watch this month, or some new JBL subs?
Perfectly put and true. Here, we do just that, so people who are living in poverty, will never have to worry about being sick.
Now Mark loves us all remember. Except, if you are broke and in need of hospital treatment that is..
Ah right, so he IS all out for himself and his family. Nobody else, no matter how poor and sick they are, matter.
Not that that should comes as much of a shock to most of us anyway.
But it was another Dan, that not only owned Mark, but proved that when you know exactly what you are talking about and are being civil about it in a debate, the other person(s) always run scared and have to resort to personal insults.
Wait! Didn't Mark earlier claim that so many new people are joining/watching VL, that he added 3 more powerful servers and they couldn't cope?
So with cheaper VIP and all the thousands of extra traffic, what he makes extra on ads and new VIP's, wouldn't pay the bills?
eerr, ok 😉
2 points here. Mark says the ad revenue provides a decent amount. Now considering he claims VaughnLive alone costs him over $22k a month alone, to pay that, and be constantly boasting about what new monitors/graphics cards/car hifi/smart watches that he purchases, i think you could call that a little more than a 'decent' amount.
Secondly, what Dan is saying about the casters being the money makers, is correct. No casters, no viewers, no money, simple!
Remember i was saying about when a person has valid points, the other tends to run scared and start with the insults?
Oh, also see why i have highlighted Scruffy talking about it as a business…because that's what it is to them, remember that.

Again, he's spot on. They are only DMCA compliant, because if they don't take a channel down when requested, then they lose their site, servers, and a whole load of money in fines.
The Vaughns will not do anybody a favour, unless of course, it will benefit them.
Sorry Mark, but he approached in an adult, respectful way. Because you knew you couldn't realistically deny any of the valid points he made, YOU reacted like the 14 yr old immature punk!